Support
We're here to help you in any way we can.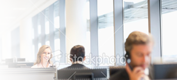 Service and Support
Allstate Telecom is a full-service Commercial VoIP Solutions Provider. This means that in addition to providing the services that will meet the exact needs of your business, we also take the frustration and confusion out of your business communications.
Find Out How to Grow Your Business with Commercial VoIP Solutions
Please call Allstate Telecom at 855-AST-VOIP (278-8647) to speak to one of our highly-qualified VoIP experts about all any our Commercial VoIP Solutions. If you want to save money on your business faxing, business telephone service we are here to help. If you are still trying to figure out what all of the VoIP fuss is about, we are here to answer any of your questions and address any concerns. If you are looking for a state-of-the-art hosted PBX service to give your business a professional upgrade… we can show you how. Our VoIP experts can tell you exactly what solution is best for your business just based how you do business and what you feel your needs are.
Existing Telecom Clients
If you are an existing telecom client and have questions, comments or concerns, please call our office immediately at 855- AST-VOIP (278-8647) so that we can be of assistance.
Allstate Telecom is here to provide comprehensive service and support. Just tell us what you need and we will handle the rest!