Fax Services
Bring your business faxing into the future.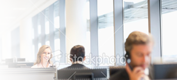 Faxing in the Digital Age
Allstate Telecomís Virtual Fax Service brings your business faxing into the future. This is the digital age and one-by-one the antiquated ways of yesterday are falling to the wayside. Gone are the days when it was necessary to pay someone to organize paper documents in manila folders to be stored in bulky filing cabinets.
"Going Paperless" is becoming commonplace in business; it saves time, space and money. Additionally, it keeps all of your important files at the fingertips of anyone in your organization that may need to access them and gives you the ability to simply email or fax anything to anyone instead of dealing with delays while you wait on mail delivery. The best part is that digital documents last forever as long as proper steps are taken to backup important data.
Leverage Any Internet Connection Anywhere in the World
Allstate Telecomís Virtual Fax Service allows anyone in your organization to send or receive a fax anywhere in the world. Business faxing at its simplest that lowers costs, increases efficiency and productivity plus gives you instant access to any sent or received fax anytime, anywhere.
Call Allstate Telecom at 855-AST-VOIP (278-8647) for more information or to start faxing today!
Looking for Standard Fax Service?
Allstate Telecom also offers standard fax service using VoIP technology which saves you money on your inbound and outbound calls. We connect a box to your Internet connection and then to your standard fax machine. You can use your existing fax machine just as you did with regular telephone lines. The only difference is that you donít need to pay for a telephone line from the telephone company.