Fax Services
Bring your business faxing into the future.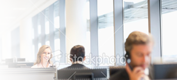 Send and Receive Faxes from Anywhere
Allstate Telecomís Virtual Fax Service provides a complete inbound and outbound faxing solution without the need for a traditional fax machine. This virtual service allows you to send or receive faxes anywhere in the world with Internet access and a web browser. You can also send faxes directly from your existing email program and receive them in your inbox just like new mail.
Sending and Receiving Virtual Faxes
Sending a fax is easy, simply compose and send an email to @emailyourfax.com from a computer with your authorized email address, using your fax number as the subject, and attach the file you want to send. Receiving faxes is even easier. When a fax is sent to you, it appears in your email Inbox as a .PDF attachment.
Web-Based Fax Control Panel
You can even access our user-friendly web-based Fax Control Panel by going to www.viewmyfax.com and entering your username and password. From there you may send faxes, view faxes, and even keep a contact list of people you send faxes to on a regular basis. You can even create a custom cover page.
Allstate Telecom's Virtual Fax Service is:
Simple -

it's as easy as sending or receiving an email

Private and Secure -

faxes arrive in yuor private email inbox not sitting around on a fax macine

Never Miss a Fax -

send and receive faxes from home, work or on the road

Environmentally Friendly -

no fax machine, no paper, no messy toner

Lower Business Overhead -

never again spend money on equipment, maintenance, repair, toner or paper
Questions about Allstate Telecom's Virtual Fax Service? Just call Allstate Telecom at 855-AST-VOIP (278-8647) to get help.