Commercial VoIP Service
In business these days, image is everything, and perception is often reality.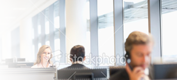 VoIP Business Phone Service
VoIP Business Phone Service allows you to make and receive phone calls using your existing high-speed internet connection rather than traditional landlines. Making the switch to VoIP for your business telephone needs will save you an enormous amount of money, while offering you highly advanced calling features, and a crystal clear calling experience.
Your business needs a reliable business phone service that is cost effective and fits perfectly with your business model. Allstate Telecomís VoIP Business Phone Service is the economical and productive way to meet the communication needs of your business while enhancing the professional presence of your organization.
Call Allstate Telecom at 855-AST-VOIP (278-8647) for more information on VoIP Business Phone Service.
Understanding VoIP
VoIP (Voice over Internet Protocol is a technology that utilizes your existing business broadband Internet connection to make and receive local, long distance and international telephone calls without the traditional telephone company service. VoIP also referred to as Voice over IP can be used to connect to regular telephone numbers anywhere in the world at significantly reduced rates.
Voice is converted from an analog signal to a digital signal by an ATA (Analog Telephone Adapter) or IP Telephone. It is then sent over the Internet in data packets to a location close to the call destination, where it is converted back into an analog signal, traveling the remaining distance over a traditional PSTN (Public Switch Telephone Network) unless it is a VoIP to VoIP call. Your call is received by any traditional or VoIP telephone worldwide.