Flexibility
Flexibility to work wherever, whenever.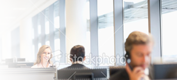 Business Communications Demand Flexibility
Harnessing VoIP technology gives new versatility to doing business. Allstate Telecom gives your business comprehensive communication choices. This flexibility allows you to utilize technology to support business now while creating a path for growth to meet its needs tomorrow.
Ability to Work from Anywhere in the World
Business is not always done in the main office; it might be done working at home, at a satellite office or even on the road. Allstate Telecom gives you the ability send and receive faxes from anywhere in the world and we provide communication options to get your telephone calls to you, wherever that may be.
Existing or New Business Phone Service
Allstate Telecom works with any existing business phone system or we can replace or implement new Business Phone Service. If you already use an on-premise PBX, our VoIP Business Phone Service will save you money over traditional telephone companies. We also offer a Hosted PBX Service, which provides all of the benefits of an Advanced PBX Feature set without the cost of on-premise PBX hardware, maintenance and upgrades.
Business Fax Service
Allstate Telecom can also provision your business fax needs while eliminating the cost of a separate fax telephone line. Again, itís all about the flexibility to meet the needs of your organization. We provide two different options - Our Virtual Fax Service provides a complete inbound and outbound faxing solution without the need of a traditional fax machine. While our Standard Fax Service uses your existing fax machine just as you are used to only you save on your inbound and outbound charges with VoIP.
Speak to one of our VoIP experts at 855-AST-VOIP (278-8647) about your commercial telephone service.