Value
Value that improves your bottom line.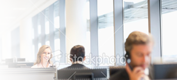 Business Communications Demand Value
The cost of business communication is an important criterion for determining what is affordable for your business; however the true measure of any service is its value. No matter how much or how little your communication expenses may be, you are paying too much if it does not increase the value of your business.
Increase Productivity and Effectiveness
Allstate Telecom can increase the productivity and effectiveness of your business communications by offering you exactly what you need for your business model. One size does not fit all, and every business has unique needs that will help it better service its clients and grow. The more functional your service, the more business you can conduct which naturally increases your ROI.
Service is Only as Good as Its Provider
Quality business communications start with a reliable telecom service provider that understands the value of your business. Allstate Telecomís communication experts provide your business with personal care and attention. When you call for service or support your call is answered directly and you are never routed to foreign countries or large call rooms. In fact, you can come to our local office and speak directly to the same person you spoke with on the telephone.
A Provider is only as Good as Its Infrastructure
Customer care is very important but only when coupled with quality service and a solid technical infrastructure. Allstate Telecom can continue to provide service through hurricanes, power outages, lightning strikes and equipment failure. We also analyze every business infrastructure before signing them up to ensure that nothing will interfere with quality and reliability on their end.
Contact Allstate Telecom at 855-AST-VOIP (278-8647) to find out how we can add value to your business communications.