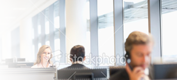 Advanced PBX Feature Set
Allstate Telecom's Hosted PBX Phone Service includes all the standard PBX service features you expect: Auto Attendant, Hunt Groups, Paging, Conference Rooms, Service Flags, Agent Groups (ACDs), Voicemail, Cell Phone Support – plus many for which you'd expect to pay extra: The ability to register multiple phone lines to a single extension (in any location, anywhere in the WORLD), the ability to utilize your cell phone as just another extension of the office PBX (it calls your cell phone at the same time as your desktop phone), the ability to set the IP-PBX to email your voicemails so that you can easily streamline the process of determining whether you want to listen to them now, later, or just delete unsolicited calls.
Getting started is easy! Just call Allstate Telecom at 855-AST-VOIP (278-8647) for a no cost, no obligation consultation today.
Here are just a few of the Advanced PBX Features offered with Allstate Telecom's Hosted PBX Phone Service:
3-Way Calling
Agent Groups (ACDs)
Address Book
Auto Attendants
Barge In
Block Anonymous Calls
Block Caller ID
Busy Lamp Fields
Call Cell on New Voicemail
Call Detail Records (CDRs)
Call Forking to Cell Phone
Call Forward on Busy
Call Forward on No Answer
Call Park/Pickup
Call Transfer
Caller ID
Conference Rooms
Do Not Disturb (DND)
Email on Missed Call
Hot Desking
Hunt Groups
IVR Nodes/Custom Call Flows
Listen In
Multiple Phone Registrations
Music on Hold(MoH)
Paging Groups
Service Flags/Time-of-Day Routing
Voicemail
Voicemail to Email
Wake Up Calls
Web-based Control Panel
Whisper (Teach Mode)