Quality and Reliability
Traditional phone service is antiquated in comparison.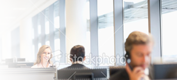 It's All About Quality and Reliability
VoIP service makes the traditional telephone service seem antiquated and useless. Once clients start using VoIP, especially our Hosted PBX Telephone service they tell us they would never go back to regular telephone service. Allstate Telecomís feature-rich Hosted PBX Phone Service becomes a part of your everyday business process. In addition to saving you money on your communication needs; our service advances your business presence to your current and potential clients.
Allstate Telecom understands this and knows that the benefits our VoIP solutions offer your business would not mean much without superb quality and reliability.
Allstate Telecom Inspects Every Business Infrastructure First
Every new client goes through the same process before they can sign up for any of our Commercial VoIP Solutions. We find out about your technical infrastructure, existing broadband connection, calling demands and any other details that would be relevant to your business telephone service. If your Internet connection is not adequate, you are using out-of-date or low-quality equipment or your location has unique circumstancesÖ we need to know. This is where we start to ensure that our clients telephone calls do not suffer do to something wrong on their end. We will advise you on any changes that should be made and/or provide any equipment necessary to ensure QoS (Quality of Service) on your side.
Allstate Telecom Provides Unsurpassed Quality and Reliability
We know our technical infrastructure is fully redundant, supports quality service and its uptime cannot be surpassed. We know this because we have taken every precaution, implemented redundancy throughout all aspects of our service and we set the highest standards for acceptable service. We can continue providing service through hurricanes, power outages, lightning strikes and equipment failure.
Power Failure and Lightning Strikes: Allstate Telecomís Hosted PBX servers are housed in a datacenter designed to handle 200+ MPH winds. The datacenter has two (2) direct power feeds from the power utility company, three (3) 2.5-megawatt generators with enough fuel to run for 20+ days, and a complete power management system capable of dissipating surges and lightning strikes to an earth ground without getting anywhere near the equipment.
Equipment Failures: Our PBX servers run on a highly available virtual cluster comprised of multiple physical server nodes. If a server node fails, the virtual cluster simply moves the PBX server to another living physical server node, with no discernible downtime.
Call Allstate Telecom at 855-AST-VOIP (278-8647) for a no-cost, no-obligation full network or Quality of Service assessment!