Hosted Benefits
Communication Benefits That Offer Every Advantage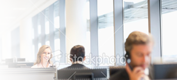 Cost Reduction
With Hosted PBX, there's no need to purchase an on-premise PBX, extra expansion boards or expensive "add-ons" like voicemail cards, auto attendants, or ACDs. They're already included in the price of Allstate Telecom's Hosted PBX Phone Service. The PBX scales to your requirements, allowing you to add more extensions whenever you like.
Resiliency
Anyone with a business on the southern U.S. coastline lives with the threat of hurricane season for six months every year. The threat of a business shutdown looms constantly when your on-premises systems are susceptible to lightning strikes, power failures and summer brown-outs, and general equipment failures.
Allstate Telecom's Hosted PBX Phone Service allows a business to customize an Auto Attendant informing callers in the event of a natural disaster, forward calls dialing your extension to your cell phone or any other available phone number during a power outage. You can even work transparently from any location with an Internet connection by simply by connecting your VoIP telephone. Incoming and outgoing calls will operate just as if you were in the office.
Control
Allstate Telecom gives its clients as much or as little control was they wish. With Allstate Telecom Hosted PBX Phone Service, take complete control of your phone system if you'd like, or leave it to us and we'll make most changes free of charge.
Flexibility
With Allstate Telecom's Hosted PBX Phone Service offers your business total flexibility:
Expand your business as needed, without anticipating it at sign up.
Have the PBX call your cell phone at the same time as your office phone (also known as Call Forking).
Operate from a single corporate office, multiple small offices,or go completely virtual. No matter where you plug your phone in, as long as it has an Internet connection, it will work exactly as it does in your office.*
Queue calls to Support and/or Sales,m just like they do in large Call Centers.
Send all Voicemail to an email as a .wav attachment (Windows Audio file).
Switch Call Routing according to the time of day, or at the press of a button.
Use a VoIP phone or Softphone - or both - if you're on the road.
*Your Internet connection must meet certian requirements for reliable VoIP communications.